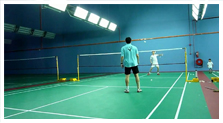 Whitefield Sports Centre (WSC) is established in 2015 with its brand new badmintonfacility consisting of 7 indoor international standard courts located off Whitefield-Hoskote Main Road at Seegehalli (behind HPCL petrol station). 

The passion for the sport and the clear purpose of bringing healthand fitnessinto more people's lives are the prime reasons we are here.Badminton is the second most popular sportin India and WSC aims to bring the sport even closer to more people and build future champions for India and for the sport. 
WSC offers membership, court bookingsand coaching to its patrons.