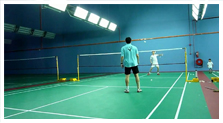 WSC is equipped with 7 indoor courts meeting the international standards 5 mm high quality PVC sports flooring.  We have invested in best in class lighting arrangement that ensures great visibility of the shuttle and avoid blinding for the player in all possible angles. In house changing rooms and rest rooms are made available for the comfort of all the patrons. 

At WSC, we ensure that non marking shoes are strictly mandatory. Just in case you are not carrying your non marking shoes, we have few shoes available on rental basis.

Also visit our shop at the premises forbadminton merchandise. Badminton rackets, shuttles, strings, accessories, shoes, dry fit
T shirts are available.

We will continuously upkeep the quality of our facilities and make WSC a perfect venue to enjoy the sport.