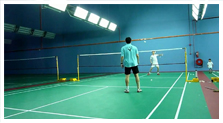 WSC offers variety of membership plans that suit your needs.
Monthly Membership
Quarterly Membership
Half Yearly Membership
Yearly Membership
Inaugural offers are available on Quarterly, Half Yearly and Yearly memberships. Contact our staff to know more details of the launch offers.


Ample slots are available in the morning as well as evening exclusively reserved for the WSC members. 2 courts are reserved for members - Morning slots from 05:30 AM to 8 AM and Evening slots from 7 PM to 10 PM.
Membership

Monthly

Quarterly

Half Yearly

Yearly

Charges

1400

3800

7200

14000

Registration Charges - 300 (one time)

Timings

Morning Membership

5:30 AM to 8 AM

Evening Membership

7 PM to 10 PM